WIN MY BRAND!
That's right! I'm doing a HUGE GIVEAWAY, you can win a brand that I built myself. And the good thing about it is, with participating in this giveaway, you can also earn some good money! How? It's very simple!
As most of you may already know, I have created the ultimate Pinterest Marketing Guide called Pinterest Mastery. I have recently launched an affiliate-program for this, you can sign up for free at the bottom of this page. You can participate in the giveaway by getting your first affiliate within 4 weeks after signing up.
Think getting affiliates is hard? We now have Pinterest Mastery Kickoff, it only costs $37! And as an affiliate you'll receive 99,99% commission on this product. It's an insane high commission but this way we can help as much people possible getting profitabel with Pinterest Ads.
The motivation of every affiliate, the commission-rate. We have been doing research to find out what a fair commission would be, it took us a lot of time. We found out that generally, an affiliate does not receive more than 50% commission. And, usually much lower but it depends on the industry and the product.
50% commission is of course a nice deal, you promote a product on social media, your blog or in your circle of friends and you receive money for every purchase.
Pinterest Mastery now has 2 programs that people can join, we've got the Kickoff-course which gives you access to all the basic content we provide. And we have Pinterest Mastery Premium, this is the advanced course with all the premium video's and the premium-community. Because those two courses have a different pricing, we also have a different commission. Please find them below.
COMMISSION ON EVERY SALE!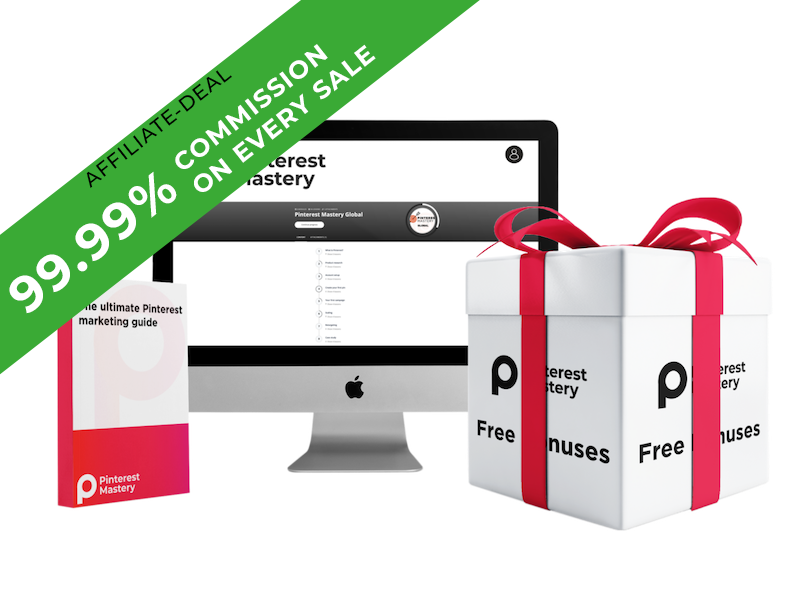 Prizes for top affiliates!
To thank you for being our ambassador and helping us grow our community, we have put together a prize package. These prizes are separate from the win action regarding the brand we are giving away.
We have prizes for the three top affiliates. We have listed them below. We will announce the winners on the 1st of January 2023. You will be calculated for the total worth you have brought in.
1-on-1 coaching by Thomas and his team (worth $4000,-)
MacBook
iPhone
Fill in your details below to sign up as an affiliate.
You can directly create your own affiliate link through your account.
Do you have any further questions, please check our FAQ below or send us an email on support@pinterestmastery.nl.
How much commission do I receive?
How much commission you will receive depends on the course you are promoting. 
Pinterest Mastery now has 2 programs
Pinterest Mastery Premium | €750,- | 50% commission.
Pinterest Mastery Kickoff | €37,- | 99,99% commission.
You can promote both programs with your personal unique links.
Do I need to pay to be an affiliate?
No, quite the opposite. You can sign up to be an affiliate, you don't have to pay for anything. Pinterest Mastery will pay you for every person that signs up using your link.
When you sign up to be an affiliate, you can login to www.pinterestmastery.com/my-account/. At this page you can find your personal affiliate link that you can share with everyone. Your link contains a cookie that will track rather the person buys our program or not. When a person buys our program using your link, it will show up in your dashboard and you will receive an email. 
When you're logged in to 'My account' you can click on the 'How To Affiliate' tab where we explain more about this.
When will I receive my commission?
We pay out our affiliates every week.
We pay out only after the right of withdrawal has expired. After the 14-day right of withdrawal has expired and the customer has not cancelled his/her order, we will pay out the commission.
Please note: you must have a PayPal account to receive the commission. Unfortunately, we cannot pay out any commission without a PayPal account.
Can everyone become an affiliate?
Yes, everyone can become an affiliate. 
NOTE: It's not possible or allowed to use your own affiliate link to buy Pinterest Mastery. Any form or attempted fraud will result in permanent blocking and prosecution.
I am already an affiliate, where can I login?