Not an affiliate yet? You can easily sign up to become an affiliate on this page.
How you can generate your link and view your sales!
Go to My account and click on Affiliate.
You will be directed to your affiliate-dashboard. This dashboard contains 3 tabs; reports, profile and campaigns. We will discuss each of them below.

Reports-tab
On this tab you will find an overview of the sales that you have generated. The form 'Referrals' lets you see who bought our program using your link, you can see the commission you've earned on that sale and monitor the payout-status.
Every week we will deposit the commission, you can see the payout history in this tab. 
Note: the payouts are done with PayPal, you will need a PayPal-account to become an affiliate.
Profile-tab
On the profile-tab you can customize your affiliate identifier. This is the part that is added to the slug, your personal link. You can change this to whatever comes to mind, or just your name. This part is added to the slug of your personal URL. 
The Refferal URL generator is not neccessary for now because we are working with campaigns. You can skip this part of the tab.
An important part of this tab, your PayPal-account. Put in your PayPal email address so we know on which account we have to deposit the commission.
Campaigns-tab
On this tab you will find the campaigns that we have setup for affiliates. This makes it very simple for you to get your link and share it with anyone.
We have two campaigns; Pinterest Mastery and Pinterest Mastery Premium. These two campaigns have two different commissions, explained below:
Pinterest Mastery Kickoff
Price: €37,- (excl. VAT)
Commission: 99.99%
Pinterest Mastery Premium
Price: €750,- (excl. VAT)
Commission: 50%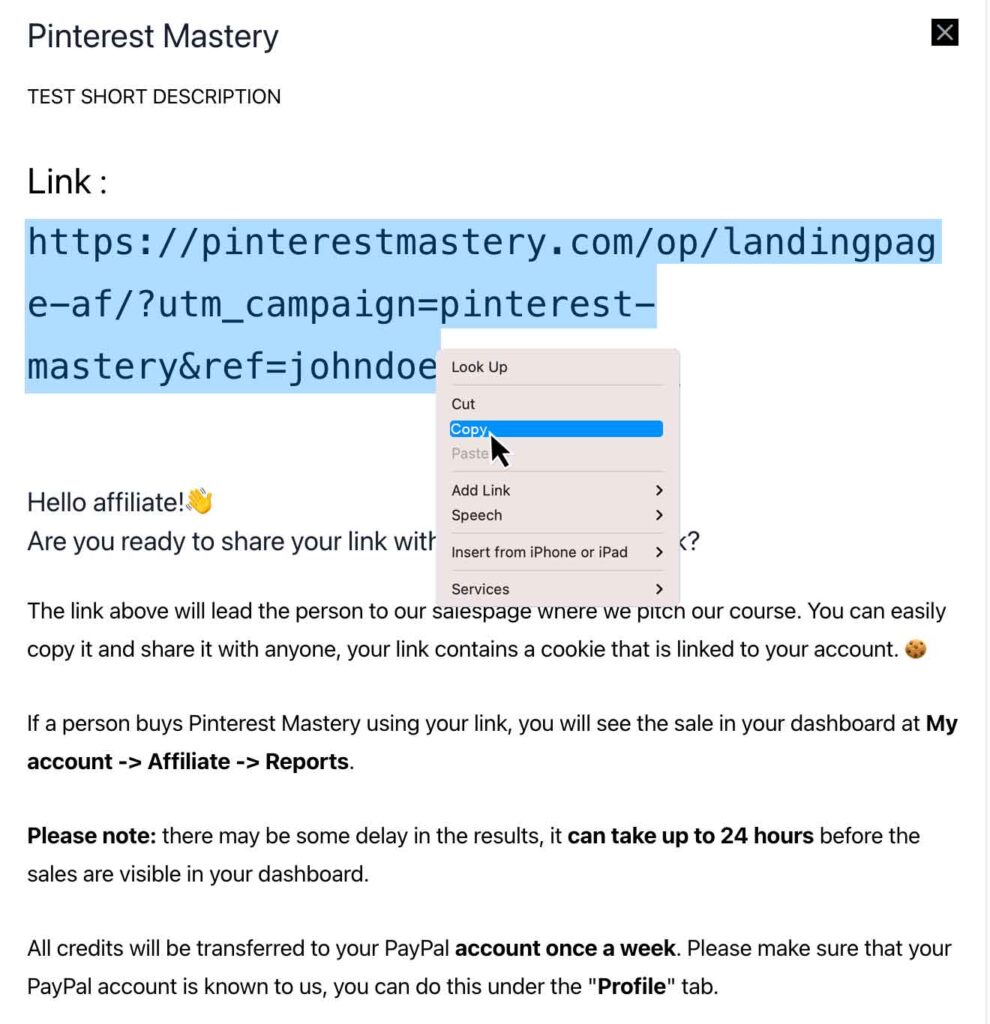 By clicking on the campaign, a new window will open. This window contains your unique link. If you have edited your reference identifier, it should be visible on the end of your link. You can now copy this URL and share it with your network!
Do you have any further questions about being an affiliate? Check our FAQ below or